Marvin Hamster Music Emporium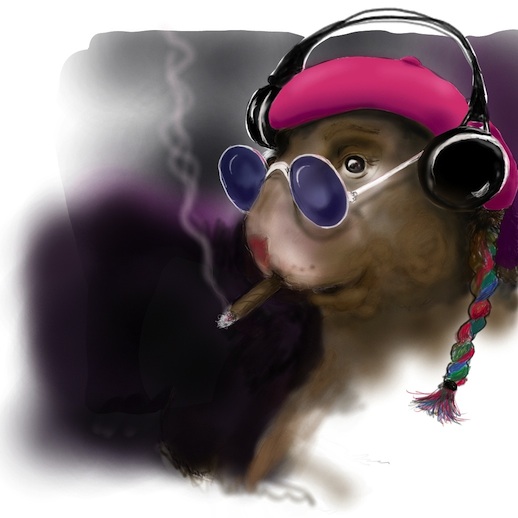 This is the home page for the Marvin Hamster Music Emporium. A weekly radio show of alternate music from the 80's and 90's. Marvin Hamster, your rodent of retro, selects two hours of College Rock, Alt Rock, Early Techno and Industrial, or what ever strikes his fancy, for your listening pleasure.
Adjust your raspberry beret, move your tri-color rat tail aside, put on your headphones, light up a clove (if you got 'em), and tune in!
Glare with disdain at anyone that doesn't get it.
The Marvin Hamster Music Emporium got started as the "New" Music Emporium around 1982 in Ames, Iowa, at the student run College radio station, KUSR (formerly KPGY). Back then the music was new, and the hamster voice was higher.
Subscribe to the Marvin Hamster podcast on iTunes.
Click on the orange icon if you want to subscribe to the podcast RSS.
Like Marvin on Facebook:

If for some reason the Facebook Like button is not showing above (probably a javascript problem), try clicking on the following link...
<== or that icon.
Follow Marvin on Mixcloud, where you can listen to past shows as well...
Follow marvinhamster on Mixcloud
Marvin doesn't share a cage with Tweety, but if you'd like to follow Marvin on Twitter you can do so here...
Marvin Hamster is on Wednesday Nights from 10PM to Midnight, Pacific Time, on KTHO, South Lake Tahoe. You can hear it on 590 AM, 96.1 FM, and streaming on the internet at KTHORadio.com
. You can also select your streaming choice from viaStreaming here.
Marvin Hamster is international! 107.5 andHow.FM in New Zealand is now broadcasting the show.
Tues - 7PM Sydney/9PM NZ (2AM Pacific, Tuesday, if I did the math right)
Tues - 10PM CT US/7PM Pacific
How cool is that!

Want to send Marvin an email? Send it to mhme at marvinhamster.com and soon as his little hamster feet navigate the keyboard he will respond.
Want some Marvin swag? Check here.
Here is the current set list.
MH207 (airdate 17-AUG-2016)
You can play this show on Mixcloud
Song
Artist
Radio Five Set
This is Radio Clash
The Clash
On Your Radio
Joe Jackson
Mexican Radio
Wall of Voodoo
Radio, Radio
Elvis Costello
Radios in Motion
XTC
Sleepless Girls And Boys Set
Be My Girl - Sally
The Police
Boys In the Bushes
Martha & The Muffins
Tattooded Love Boys
The Pretenders
Love Is The Law
Suburbs
Sleepless
King Crimson
Miracle Of Heaven Set
Promised You A Miracle
Simple Minds
Images Of Heaven
Peter Godwin
Tinseltown in the Rain
The Blue Nile
The Ghost In You
The Psychedelic Furs
Wishing You'd Leave Set
Wishing (If I Had A Photograph)
A Flock Of Seagulls
If You Leave
OMD
Blind Vision
Blancmange
Promises Promises
Naked Eyes
Camera Dream Set
I Am A Camera
Buggles
Astradyne
Ultravox
Dream Within A Dream
Propaganda
Angels In The Architecture Set
Distant Village
Michael Brook
The Sound Of Someone Who You Love...
Penguin Cafe Orchestra
Below are some of the previous playlists...
MH206 (airdate 02-AUG-2016)
You can play this show on Mixcloud
Song
Artist
Burning Red Set
Several Styles of Blonde Girls Dancing
Martha & The Muffins
Burning Down The House
Talking Heads
Red Skies
Fixx
See The Lights
Simple Minds
Dig My Sister Set
It's A Shame About Ray
The Lemonheads
My Sister
Juliana Hatfield
Koo Koo Koo
Moonpools & Caterpillars
Dig For Fire
Pixies
Dig It Up
Hoodoo Gurus
Milky Way And Moon Set
Under the Milky Way
The Church
The Killing Moon
Echo & The Bunnymen
Inside Out
The Chameleons UK
Boys Don't Cry
Cure
Go Happy Forever Set
But If You Go
MC 900 Ft Jesus
Many Happy Returns
ABC
Love Lasts Forever
Kissing The Pink
So Lonely
Police
Three Day Set
Lucky Day
Thompson Twins
This Is the Day
The The
The Day Before You Came
Blancmange
Lemon Cake Set
Creature Feature
Leo Kottke
The Staunton Lick
Lemon Jelly
The Argument
Sea and Cake
MH205 (airdate 27-JUL-2016)
You can play this show on Mixcloud
Song
Artist
Feel Alright Set
Let's All Make A Bomb
Heaven 17
Feel Me
Blancmange
The Things Dreams Are Made Of
Human League
It's Alright
Fashion
Go Get Candy Set
Whisper To A Scream
The Icicle Works
I Want Candy
Bow Wow Wow
Go!
Tones On Tail
Eighties
Killing Joke
Iowa Set
Why Their Faces Are So Worn
Full Fathom Five
One and a Half on a Hill
House of Large Sizes
My Turn
Claude Pate
When Time Runs Out
Dangtrippers
Kids Today
The Phones
Sidewalking
Dangtrippers
Blue Hell Set
Help Me I Am In Hell
Nine Inch Nails
Blueeyed Devil
Soul Coughing
Blue
A Perfect Circle
Schism
Tool
Beat Down Set
The Beat(en) Generation
The The
The World's Address
They Might Be Giants
It's Coming Down
Cake
There's Only This
A Certain Ratio
Falling Elevators
MC 900 Ft Jesus
Taking Tinseltown Set
Too Precious
Stranglers
Tinseltown in the Rain
The Blue Nile
Taking The Veil
David Sylvian
MH204 (airdate 20-JUL-2016)
You can play this show on Mixcloud
Song
Artist
Gold Argonauts Set
Love Is The Drug
Roxy Music
(Get A) Grip (On Yourself)
The Stranglers
Goodbye Girl
Squeeze
Jason And The Argonauts
XTC
New Gold Dream
Simple Minds
Apply Lotion Set
Goodbye Horses (Extended Version)
Q Lazzarus
If You Leave
Orchestral Manoeuvres In The Dark
Love My Way
The Psychedelic Furs
Lips Like Sugar
Echo & The Bunnymen
Every Party Set
World Party
The Waterboys
Private Revolution
World Party
First Party
Marx Brothers
Party Out Of Bounds
The B-52s
Dead Man's Party
Oingo Boingo
Fun Jar Set
What People Do for Fun
Martha & The Muffins
Physical Attraction
Eye To Eye
The Killing Jar
Siouxsie and the Banshees
Miss Gradenko
The Police
Dry Whistle Set
Whistle Down The Wind
Nick Heyward
High And Dry
Radiohead
Airwaves
Thomas Dolby
Hold Me Now
The Thompson Twins
Flim And Fleck Set
According To Anthony
Flim & The BB's
Flying Saucer Dudes
Bela Fleck & The Flecktones
The Pursuit of Accidents
Level 42
MH203 (airdate 06-JUL-2016)
You can play this show on Mixcloud
Song
Artist
Rock, Bang And Pump Set
Do You Remember Rock N Roll Radio?
Ramones
Bang On The Drum All Day
Todd Rundgren
Pump It Up
Elvis Costello
I'm The Man
Joe Jackson
Message In A Bottle
The Police
Burning Heartbreak Set
Kick
INXS
Beds Are Burning
Midnight Oil
Train In Vain
The Clash
Everywhere I Go
The Call
Heartbreak Beat
Psychedlic Furs
Electric Servant Set
Electricity
Orchestral Manoeuvres In The Dark
The Metro
Berlin
Bring Your Love Down (Didn't I)
Yaz
Master & Servant
Depeche Mode
Soon Or Sooner Set
Love Will Tear Us Apart Again
Joy Division
How Soon Is Now?
The Smiths
Pale Shelter
Tears For Fears
Sooner Than You Think
New Order
Boiled Heads Set
Being Boiled
Human League
Big Man Restless
Kissing The Pink
These Dangerous Machines
Martha & The Muffins
Seen And Not Seen
Talking Heads
Family Organization Set
Somewhere
United Future Organization
Schitzophrenia
Liquid Soul
Yes
Family
MH202 (airdate 22-JUN-2016)
You can play this show on Mixcloud
Song
Artist
Walk Or Bus Set
Radio Free Europe
REM
The Walk
Cure
Gone Daddy Gone
Violent Femmes
Rattle My Bones
Suburbs
Kiss Me On The Bus
Replacements
Skinny Kid Set
Skinny Hotrod
The Sugarplastic
Tomato Kid
Moonpools & Caterpillars
Never To Be Found
Meat Puppets
The High Party
Ted Leo & The Pharmacists
Do You Right
311
Poison Pleasure Set
I Wanted To Tell Her
Ministry
It's Alright
Fashion
Poison Arrow
ABC
Pleasure Boys (Dance Mix)
Visage
Chase A Clown Set
Fifty-Fifty Clown
Cocteau Twins
The Chase
Propaganda
Me and the Wind
XTC
Giant Heartbeat
Split Enz
Wouldn't It Be Good
Nik Kershaw
Hospital Science Set
Hospital Food
Eels
Corvette Bummer
Beck
So Far I Have Not Found The Science
Soul Coughing
Adventures in Failure
MC 900 Ft Jesus
Paisley Lake Set
The Screams Of Passion
Family
Rainbow Lake
Wendy & Lisa
Candle Dance
Ingrid Chavez
MH201 (airdate 15-JUN-2016)
You can play this show on Mixcloud
Song
Artist
Dare Anytime Set
I Will Dare
Replacements
Primary
Cure
Come Anytime
The Hoodoo Gurus
Love Is The Law
Suburbs
Goody Two Shoes
Adam Ant
Heart Soul And Blood Set
Girlfriend In a Coma
The Smiths
Sell My Soul
Midnight Oil
Heartbreak Beat
Psychedlic Furs
Blood and Roses
The Smithereens
Day in Day Out
XTC
Turnaround Here Set
Big Plans
Christmas
When Time Runs Out
Dangtrippers
Turnaround
Not Shakespeare
With You
O Positive
Stay Right Here
Deep Six
Lie Of Life Set
Let Me Go (extended vocal mix)
Heaven 17
Lie To Me
Depeche Mode
Images Of Heaven
Peter Godwin
It's My Life
Talk Talk
Detective Day Set
We Are Detective
Thompson Twins
This Is the Day
The The
The Day Before You Came
Blancmange
Sea Ultramarine Set
The Argument
Sea and Cake
Interstellar
Ultramarine
Definition
Kruder & Dorfmeister
MH200 (airdate 08-JUN-2016)
You can play this show on Mixcloud
Song
Artist
Love Starts Set
Modern Love
David Bowie
Love Cats
Cure
Love Is a Stranger
Eurythmics
Strangelove
Depeche Mode
Sex Starts Set
Give It Away
Red Hot Chili Peppers
Sexx Laws
Beck
(She's) Sexy + 17
Stray Cats
Too Much Sex, Not Enough Affection
Timbuk 3
Wild Sex (In The Working Class)
Oingo Boingo
More Sex Set
Sex [I'm A...]
Berlin
Sex Dwarf
Soft Cell
People Are Still Having Sex
LaTour
Computer Games
Mi-Sex
Head Set
Game Above My Head
Blancmange
This Must Be the Place (Naive Melody)
Talking Heads
Skin Deep
The Daou
My Iron Lung
Radiohead
Sour Times
Portishead
Smoking Set
When Smokey Sings (7" Version)
ABC
Cinder and Smoke
Iron & Wine
Smoke
Pell Mell
Dreddoverboard
Nightmares On Wax
Sleep Set
The City Sleeps
MC 900 Ft Jesus
Sleepwalkers
Level 42
Sleeplessness
Bill Nelson
For the week of 01-Jun-2016 the Hamster was was busy hanging out with his friends and investors at his bar/restuarant in San Francisco called BEL celebrating their first anniversary. He decided MH157 would be a good replay. Check out the playlist by clicking here.
MH199 (airdate 25-MAY-2016)
You can play this show on Mixcloud
Song
Artist
Replacement Blonde Set
Radio Free Europe
REM
Alex Chilton
The Replacements
Come Anytime
The Hoodoo Gurus
God Is A Bullet
Concrete Blonde
Drive She Said
Stan Ridgway
Untouchable Madness Set
One Step Beyond
Madness
Belly Of The Whale
Burning Sensations
Free Yourself
The Untouchables
Mirror In The Bathroom
English Beat
Time Bomb
Rancid
Smashing Beethoven Set
1979
Smashing Pumpkins
Jams Runs Free
Sonic Youth
Dig For Fire
Pixies
Borderline
Camper Van Beethoven
Love Vibration
Josh Rouse
1982 Techno Set
See You
Depeche Mode
Living On The Ceiling
Blancmange
I'm Your Money
Heaven 17
Bring Your Love Down (Didn't I)
Yaz
Berlin Propaganda Set
Jet Town
SSQ
Masquerade
Berlin
Hesitation
Mya & The Mirror
Duel
Propaganda
Breakdown In Tears Set
Perpetual Dawn (Solar Youth Mix)
The Orb
No More Tears
The KLF
Breakdown (Radio Mix)
One Dove
MH198 (airdate 18-MAY-2016)
You can play this show on Mixcloud
Song
Artist
Gigalo Janitor Set
Private Idaho
The B-52s
Just A Gigolo
Barbie And The Kens
Janitor
Suburban Lawns
Sky Blue Pink
Exene Cervenka & The Original Sinners
Beep Beep Love
Gruppo Sportivo
Lots Of Words Set
End Of The World
REM
People Who Died
The Jim Carroll Band
88 Lines About 44 Women
The Nails
Money
The Flying Lizards
Bats And Puppets Set
Too Much
The Bats
Buddy Holly
Weezer
Backwater
Meat Puppets
A Little Hope
Full Fathom Five
Could You Be the One?
Husker Du
When I Come Around
Green Day
Jump Ball Set
Jump Around
House Of Pain
I'm Shipping Up to Boston
Dropkick Murphys
Institutionalized
Suicidal Tendencies
Ball and Chain
Social Distortion
Do The Brown Nose
The Dead Milkmen
Cesspool And Moonpool Set
Cesspool
Blake Babies
Ren
Moonpools & Caterpillars
These Are Days
10,000 Maniacs
Water Your Garden
Luscious Jackson
Rhythm Of Color Set
Slave To The Rhythm (Hot Blooded Version)
Grace Jones
Dreaming in Color
Art of Noise
MH197 (airdate 11-MAY-2016)
You can play this show on Mixcloud
Song
Artist
New Order Set
Everything's Gone Green
New Order
Sub-culture
New Order
Ultraviolence
New Order
Regret
New Order
Depeche Mode Set
Get The Balance Right
Depeche Mode
Master & Servant
Depeche Mode
Behind The Wheel
Depeche Mode
Policy Of Truth
Depeche Mode
ABC Set
Look Of Love
ABC
S.O.S.
ABC
Be Near Me (Munich Disco Mix)
ABC
Say It
ABC
B-52s Set
Rock Lobster
The B-52's
Song For A Future Generation
The B-52's
Summer Of Love
The B-52's
Love Shack
The B-52's
XTC Set
Day in Day Out
XTC
Senses Working Overtime
XTC
Love On a Farmboy's Wages
XTC
Mayor of Simpleton
XTC
Dear God
XTC
Level 42 Set
You Can't Blame Louis
Level 42
Micro Kid
Level 42
Running In The Family
Level 42
Guaranteed
Level 42
For the week of 04-May-2016 the Hamster was was busy playing baseball so he replayed MH84. You can find the playlist by clicking here.
But wait, there's more...
©2016, Marvin Hamster.