Marvin Hamster Music Emporium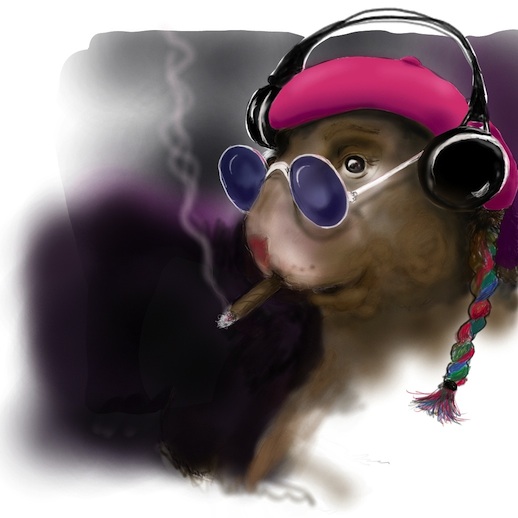 This is the home page for the Marvin Hamster Music Emporium. A weekly radio show of alternate music from the 80's and 90's. Marvin Hamster, your rodent of retro, selects two hours of College Rock, Alt Rock, Early Techno and Industrial, or what ever strikes his fancy, for your listening pleasure.
Adjust your raspberry beret, move your tri-color rat tail aside, put on your headphones, light up a clove (if you got 'em), and tune in!
Glare with disdain at anyone that doesn't get it.
The Marvin Hamster Music Emporium got started as the "New" Music Emporium around 1982 in Ames, Iowa, at the student run College radio station, KUSR (formerly KPGY). Back then the music was new, and the hamster voice was higher.
Subscribe to the Marvin Hamster podcast on iTunes.
Click on the orange icon if you want to subscribe to the podcast RSS.
Like Marvin on Facebook:

If for some reason the Facebook Like button is not showing above (probably a javascript problem), try clicking on the following link...
<== or that icon.
Follow Marvin on Mixcloud, where you can listen to past shows as well...
Follow marvinhamster on Mixcloud
Marvin doesn't share a cage with Tweety, but if you'd like to follow Marvin on Twitter you can do so here...
Marvin Hamster is on Wednesday Nights from 10PM to Midnight, Pacific Time, on KTHO, South Lake Tahoe. You can hear it on 590 AM, 96.1 FM, and streaming on the internet at KTHORadio.com
. You can also select your streaming choice from viaStreaming here.
Marvin Hamster is international! 107.5 andHow.FM in New Zealand is now broadcasting the show.
Tues - 7PM Sydney/9PM NZ (2AM Pacific, Tuesday, if I did the math right)
Tues - 10PM CT US/7PM Pacific
How cool is that!

Want to send Marvin an email? Send it to mhme at marvinhamster.com and soon as his little hamster feet navigate the keyboard he will respond.
Want some Marvin swag? Check here.
Here is the current set list.
MH243 (airdate 18-OCT-2017)
You can play this show on Mixcloud
Song
Artist
Melt The Drum Set
I Melt With You
Modern English
Love Is The Law
Suburbs
I Will Dare
The Replacements
Primary
Cure
Bang On The Drum All Day
Todd Rundgren
Infected Bizness Set
Infected
The The
Addiction
Lecture On Nothing
The Globe
Big Audio Dynamite
Stand Together
Beastie Boys
Mixed Bizness
Beck
Poison Ministry Set
Poison Arrow
ABC
Situation
Yaz
When The Lights Go Out
Naked Eyes
Game Above My Head
Blancmange
Say You're Sorry
Ministry
Young Giants Set
Young Folks
Peter Bjorn And John
Love You Madly
Cake
Blueeyed Devil
Soul Coughing
Hospital Food
Eels
Whistling In The Dark
They Might Be Giants
Get Vazquez Set
Get Your Snack On
Amon Tobin
Somewhere
United Future Organization
Baila Plena (Off World Ensemble Remix)
Papo Vazquez
Sweet Dove Set
Sweet Harmony
The Beloved
All That We Perceive
Thievery Corporation
Breakdown (Radio Mix)
One Dove
Below are some of the previous playlists...
For the week of 11-OCT-2017 the Hamster decided to replay MH121, which is half way back to the beginning, for no particular reason. See the playlist by clicking here.
MH242 (airdate 04-OCT-2017)
You can play this show on Mixcloud
Song
Artist
Rock The Boys Set
Rock the Casbah
The Clash
Message Of Love
Pretenders
Crosseyed And Painless
Talking Heads
Boys In the Bushes
Martha & The Muffins
Call Missing Persons Set
Modern Romans
The Call
Here Comes The Grump
Adam Ant
Pretty In Pink
The Psychedelic Furs
Mental Hopscotch
Missing Persons
Hanging On The Telephone
Blondie
6060-842
The B-52's
Accidents After Dark Set
Accidents Will Happen
Elvis Costello
This Is Pop
XTC
Driven To Tears
The Police
On Your Radio
Joe Jackson
All Time Low
2.3
After Dark
Flowers
Twin Pieces Set
We Are Detective
Thompson Twins
Do Or Die
Human League
Conditioning
Howard Jones
Gone To Pieces
Nik Kershaw
Waves Of Tears Set
Mad World
Tears For Fears
How Soon Is Now?
The Smiths
Fade To Grey
Visage
Waves
Blancmange
Cinematic Exit Set
All Things
Cinematic Orchestra
Flowered Knife Shadows
Harold Budd
Blade Runner Blues
Vangelis
MH241 (airdate 20-SEP-2017)
You can play this show on Mixcloud
Song
Artist
Rattle Radio Set
Rattle My Bones
Suburbs
Kiss Me On The Bus
Replacements
Primary
Cure
Eighties
Killing Joke
This is Radio Clash
The Clash
Pepsi And Coffee Set
Waiting Room
Fugazi
Land Of Sunshine
Faith No More
Institutionalized
Suicidal Tendencies
Come Out and Play
The Offspring
409 In Your Coffee Maker
Green Day
Go Blind Set
Don't Go
Yaz
Love Is a Stranger
Eurythmics
Blind Vision
Blancmange
Master & Servant
Depeche Mode
Sub culture
New Order
Big Time Crazy Set
Big Time
Peter Gabriel
She Drives Me Crazy
Fine Young Cannibals
Need You Tonight
INXS
Dry County
The B-52's
Right And Wrong
Joe Jackson
Straight Line Roundabout Set
Free Nelson Mandela
Special AKA
Belly Of The Whale
Burning Sensations
Movin' in a Straight Line
The Jam
English Roundabout
XTC
House Of Fun (Album Version)
Madness
Body Machinery Set
Leave Your Body
The Grid
p Machinery
Propaganda
For the week of 13-SEP-2017 the Hamster let Jen choose the show. She decided to replay MH232. See the playlist by clicking here.
MH240 (airdate 06-SEP-2017)
You can play this show on Mixcloud
Song
Artist
Balanced Dreams Set
Get The Balance Right
Depeche Mode
State Farm (Madhouse Mix)
Yaz
Sweet Dreams (Hot Remix)
Eurythmics
Frightened Pleasure Set
Pleasure Boys (Dance Mix)
Visage
Frightened In France
Kissing The Pink
All Stood Still
Ultravox
The Metro
Berlin
Ambush The Future Set
Ring of Fire
Wall of Voodoo
Ambush
Figurines
The Future's So Bright, I Gotta Wear Shades
Timbuk 3
Mr Trouble
Stan Ridgway
Clap Hands
Tom Waits
Undone Moon Set
Come Undone
Duran Duran
Pictures Of You
The Cure
The Killing Moon
Echo & The Bunnymen
Milky Sun Set
Under the Milky Way
The Church
So Alive
Love & Rockets
Always The Sun
Stranglers
Avalon
Roxy Music
Sleeping In A Blimp Set
Budapest By Blimp
Thomas Dolby
Kingdom Of Rain
The The
The City Sleeps
MC 900 Ft Jesus
MH239 (airdate 30-AUG-2017)
You can play this show on Mixcloud
Song
Artist
Candy Everywhere Set
Chant No. 1
Spandau Ballet
I Want Candy
Bow Wow Wow
Never Say Never
Romeo Void
The Wait
Pretenders
Everywhere I Go
The Call
Rock Circuit Set
Place In The Country
Adam Ant
Rock This Town
Stray Cats
American Music
Blasters
Jam Up
Four Piece Suit
Make A Circuit With Me
Polecats
Cleanin' Up The Town
Bus Boys
Girls And Passion Set
I Love Lucy
Producers
Be My Girl (Sally)
The Police
Train In Vain
The Clash
Stupid Girl
Garbage
Power And The Passion
Midnight Oil
Better Be Good Set
Things Can Only Get Better
Howard Jones
Human (Extended Version)
Human League
Come Live With Me
Heaven 17
Wouldn't It Be Good
Nik Kershaw
Detectives And Screws Set
Watching The Detectives
Elvis Costello
Fools In Love
Joe Jackson
Yacht Dance
XTC
You Turn The Screws
Cake
Badger In Black Light Set
The Badger
Ultramarine
Black Light
Material
Obey The Rules Of The Night
Heavy Shift
For the week of 23-AUG-2017 the Hamster was buzy staring into the sun and decided to replay MH238 because he was blind.
MH238 (airdate 16-AUG-2017)
You can play this show on Mixcloud
Song
Artist
Two Cults Set
She Sells Sanctuary
The Cult
The Cutter
Echo & The Bunnymen
A Girl Like You
The Smithereens
Cult Of Personality
Living Colour
Simple Fixx Set
The Politics Of Dancing
Re-Flex
One Thing Leads To Another
The Fixx
Red Rain
Peter Gabriel
New Gold Dream
Simple Minds
Pop Panorama Set
Pop Music
M
Computer Games
Mi-Sex
Cars
Gary Numan
Panaorama
Cars
Strange And Crazy Set
Strangelove
Depeche Mode
She Drives Me Crazy
Fine Young Cannibals
Sub culture
New Order
All Day
Ministry
Punching Day Set
This Is the Day
The The
Waves
Blancmange
Big Man Restless
Kissing The Pink
Born Under Punches (The Heat Goes On)
Talking Heads
Scary Storm Set
Reel Life (Evolution II)
Cinematic Orchestra
I Scare Myself
Thomas Dolby
Good Man In A Storm
Level 42
MH237 (airdate 02-AUG-2017)
You can play this show on Mixcloud
Song
Artist
Gigolo Lad Set
Maybe It Won't Last
The Woodentops
Party Out Of Bounds
The B-52s
Just A Gigolo
Barbie And The Kens
Only A Lad
Oingo Boingo
Anna Ng
They Might Be Giants
Nowhere World Set
Road to Nowhere
Talking Heads
Big Time
Peter Gabriel
Another World
Joe Jackson
Dirty Creature
Split Enz
Day in Day Out
XTC
Positive Despondency Set
Despondency
Ruts DC
Homicide
999
Stay Right Here
Deep Six
With You
O Positive
Turnaround
Not Shakespeare
Tears Of Joy Set
Love Will Tear Us Apart Again
Joy Division
How Soon Is Now?
The Smiths
Pale Shelter
Tears For Fears
Dum Dum Girl
Talk Talk
Pre-EDM EDM Set
Shellshock
New Order
IOU
Freeze
Paisley Family Set
Yes
Family
Skeleton Key
Wendy & Lisa
Take Me With U
Prince
Gaslight
fDeluxe
MH236 (airdate 19-JUL-2017)
You can play this show on Mixcloud
Song
Artist
Ant And Cats Set
Goody Two Shoes
Adam Ant
(She's) Sexy + 17
Stray Cats
Kick
INXS
Dream World
Midnight Oil
I Want You Back
Hoodoo Gurus
Call The Law Set
Love Is The Law
Suburbs
I Will Dare
Replacements
Blister In the Sun
Violent Femmes
Everywhere I Go
The Call
London Calling
Clash
Lots Of Words Set
People Who Died
The Jim Carroll Band
End Of The World
REM
88 Lines About 44 Women
The Nails
Tom's Diner (7" A)
DNA & Suzanne Vega
Guaranteed Zillionaire Set
Behind The Wheel
Depeche Mode
Guaranteed (Avenger's Remix)
Level 42
How To Be A Zillionaire (Nickel & Dime Mix)
ABC
Uncertain Kiss Set
Uncertain Smile
The The
Kiss Me
Stephen Duffy
Burn Out Dream Set
Burn Out
Cinematic Orchestra
Bill's Dream
MC 900 Ft Jesus
MH235 (airdate 05-JUL-2017)
You can play this show on Mixcloud
Song
Artist
Koo Koo Happy Set
Love Plus One
Nick Heyward & Haircut 100
I Could Be Happy
Altered Images
Big Plans
Christmas
Koo Koo Koo
Moonpools & Caterpillars
Jumping Someone Else's Train
Cure
Ultra Frightened Set
Ultraviolence
New Order
Dressed To Kill
Fashion
Frightened In France
Kissing The Pink
Tar
Visage
Pictures Of The Homeland
November Group
Balance On The Pavement Set
Get The Balance Right
Depeche Mode
Don't Tell Me (Dance Remix)
Blancmange
Penthouse And Pavement
Heaven 17
Party Party Set
World Party
The Waterboys
Six Months In a Leaky Boat
Split Enz
Footprints
Squeeze
All Come True
World Party
Human Trouble Set
Human Factor
Susan J Paul
Trouble Me
10,000 Maniacs
Welcome to the Human Race
Timbuk 3
Wouldn't It Be Good
Nik Kershaw
Star Blush Set
Star 6 & 7 8 9 (Phase II)
The Orb
Gringatcho Demento
William Orbit
Blush Response
Vangelis
MH234 (airdate 21-JUN-2017)
You can play this show on Mixcloud
Song
Artist
Bats And Caterpillars Set
The Black And The Blue
The Bats
Neighbor
Moonpools & Caterpillars
My Sister
Juliana Hatfield
A Little Hope
Full Fathom Five
Never To Be Found
Meat Puppets
Barenaked Milkmen Set
From the Air
Laurie Anderson
How To Keep Time To Music
The Wallets
Be My Yoko Ono
Barenaked Ladies
Do The Brown Nose
The Dead Milkmen
Short Skirt/Long Jacket
Cake
Video Mice Set
Video Killed The Radio Star
Buggles
Dreaming in Colourful Mice Mix
Art of Noise
Owner Of A Lonely Heart
Yes
P:Machinery [album mix]
Propaganda
Smoky Sunshine Set
Sunshine And Ecstasy (XTC Mix)
Tom Tom Club
Happy Sad
Pizzicato Five
When Smokey Sings (Miami Mix)
ABC
Slave To The Airhead Set
Slave To The Rhythm (Hot Blooded Version)
Grace Jones
Chief Inspector
Wally Badarou
Airhead
Thomas Dolby
Supreme Garden Set
Supreme Illusion
Thievery Corporation
Another Mother
Herbaliser
One Day In My Garden
Amon Tobin
MH233 (airdate 07-JUN-2017)
You can play this show on Mixcloud
Song
Artist
Love Cannibals Set
Saturdays In Silesia
Rational Youth
Love Missile F1-11
Sigue Sigue Sputnik
I Eat Cannibals (Part One)
Toto Coelo
Roses And Sugar Set
Blood and Roses
The Smithereens
Girlfriend In a Coma
The Smiths
Heartbreak Beat
The Psychedelic Furs
Sell My Soul
Midnight Oil
Lips Like Sugar
Echo & The Bunnymen
Dig It Set
Don't Fall
The Chameleons UK
Dig For Fire
Pixies
Dig It Up
Hoodoo Gurus
Naked Eye
Luscious Jackson
Under the Milky Way
The Church
Jam Jam Set
Jams Runs Free
Sonic Youth
1979
Smashing Pumpkins
Marvin Gaye
Josh Rouse
Virtual Insanity
Jamiroquai
Pink Muffins Set
Big Man Restless
Kissing The Pink
Someone Somewhere In Summertime
Simple Minds
Game Above My Head
Blancmange
These Dangerous Machines
Martha & The Muffins
Happiness Butterfly Set
Happiness Is Easy
Talk Talk
West End Girls
Pet Shop Boys
Too Shy
Kajagoogoo
Madam Butterfly
Malcom McLaren
But wait, there's more...
©2017, Marvin Hamster.