Marvin Hamster Music Emporium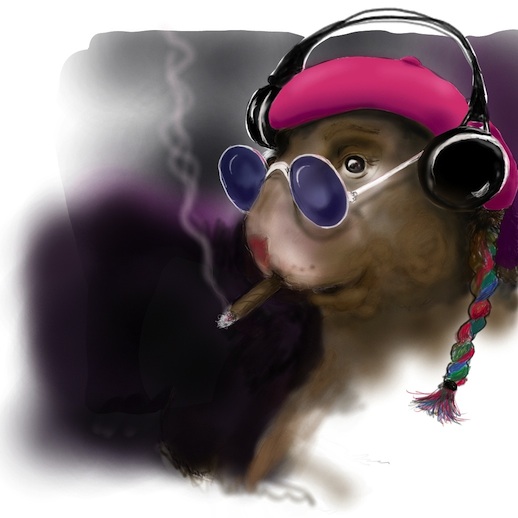 This is the home page for the Marvin Hamster Music Emporium. A weekly radio show of alternate music from the 80's and 90's. Marvin Hamster, your rodent of retro, selects two hours of College Rock, Alt Rock, Early Techno and Industrial, or what ever strikes his fancy, for your listening pleasure.
Adjust your raspberry beret, move your tri-color rat tail aside, put on your headphones, light up a clove (if you got 'em), and tune in!
Glare with disdain at anyone that doesn't get it.
The Marvin Hamster Music Emporium got started as the "New" Music Emporium around 1982 in Ames, Iowa, at the student run College radio station, KUSR (formerly KPGY). Back then the music was new, and the hamster voice was higher.
Subscribe to the Marvin Hamster podcast on iTunes.
Click on the orange icon if you want to subscribe to the podcast RSS.
Like Marvin on Facebook:

If for some reason the Facebook Like button is not showing above (probably a javascript problem), try clicking on the following link...
<== or that icon.
Follow Marvin on Mixcloud, where you can listen to past shows as well...
Follow marvinhamster on Mixcloud
Marvin doesn't share a cage with Tweety, but if you'd like to follow Marvin on Twitter you can do so here...
Marvin Hamster is on Wednesday Nights from 10PM to Midnight, Pacific Time, on KTHO, South Lake Tahoe. You can hear it on 590 AM, 96.1 FM, and streaming on the internet at KTHORadio.com
. You can also select your streaming choice from viaStreaming here.
Marvin Hamster is international! 107.5 andHow.FM in New Zealand is now broadcasting the show.
Tues - 7PM Sydney/9PM NZ (2AM Pacific, Tuesday, if I did the math right)
Tues - 10PM CT US/7PM Pacific
How cool is that!

Want to send Marvin an email? Send it to mhme at marvinhamster.com and soon as his little hamster feet navigate the keyboard he will respond.
Want some Marvin swag? Check here.
Here is the current set list.
MH220 (airdate 18-JAN-2017)
You can play this show on Mixcloud
Song
Artist
Iowayback Set
It's All Right, It's OK
Hawks
Suspended Animation
The Phones
When Time Runs Out
Dangtrippers
A Little Hope
Full Fathom Five
One and a Half on a Hill
House of Large Sizes
Gold Country Set
New Gold Dream
Simple Minds
Ghost Train
Stranglers
Train In Vain
The Clash
In A Big Country
Big Country
Simply Stupid Set
Simply Irresistible
Robert Palmer
I'm Gonna Be (500 Miles)
Proclaimers
Sunday Papers
Joe Jackson
Cannonball
The Breeders
Stupid Girl
Garbage
Missing Berlin Set
Space Invader
The Pretenders
Words
Missing Persons
Masquerade
Berlin
Hesitation
Mya & The Mirror
Voices In My Head Set
Voices Inside My Head
The Police
Hearing Voices in My Head
MC 900 Ft Jesus
That Voice Again
Peter Gabriel
Voices Carry
'Til Tuesday
Jazzy Bye Bye Set
Three Two Five
SFX
Guaranteed
Level 42
Definition
Kruder & Dorfmeister
Below are some of the previous playlists...
For the week of 11-JAN-2017 the Hamster decided to drop back to a show from January 2011, MH59. You can find the playlist by clicking here.
For the week of 04-JAN-2017 the Hamster was still celebrating New Years so he replayed MH178. You can find the playlist by clicking here.
MH219 (airdate 28-DEC-2016)
You can play this show on Mixcloud
Song
Artist
Go Dead Set
Go!
Tones On Tail
Eighties
Killing Joke
Private Idaho
The B-52's
Primary
Cure
The Dead Heart
Midnight Oil
Monkey Lips Set
...And Stones
The Blue Aeroplanes
Lips Like Sugar
Echo & The Bunnymen
Don't Fall
The Chameleons UK
Monkey Gone to Heaven
Pixies
Borderline
Camper Van Beethoven
Jam And Hash Set
1979
Smashing Pumpkins
Jams Runs Free
Sonic Youth
Hem Of Your Garment
Cake
Hash Pipe
Weezer
Rolling
Soul Coughing
Big Turn Set
Big Plans
Christmas
With You
O Positive
Turnaround
Not Shakespeare
Sidewalking
Dangtrippers
My Turn
Claude Pate
Phone The Diner Set
Step On
Happy Mondays
Standing Outside a Broken Phone Booth...
Primitive Radio Gods
Tom's Diner
DNA & Suzanne Vega
Bitter Sweet Symphony
The Verve
Beautiful Lie Set
A Thousand Beautiful Things
Annie Lennox
Why Do I lie?
Luscious Jackson
Violet
Seal
MH218 (airdate 21-DEC-2016)
You can play this show on Mixcloud
Song
Artist
Phone It In Set
Telecommunication
Flock Of Seagulls
Telephone Operator
Pete Shelley
6060-842
The B-52's
Bad Connection
Yaz
Hanging On The Telephone
Blondie
The Phone Call
The Pretenders
Plastic Goats Set
What I Got (edit)
Sublime
All Mixed Up
311
Dilaudid
Mountain Goats
Don't Look Down
Sugarplastic
Comfort Eagle
Cake
Evidence Of Robbery Set
Bank Robber
Clash
Ghost Town
Specials
Dreamtime
Stranglers
Evidence
Faith No More
Talking Pink Fur Set
Love My Way
The Psychedelic Furs
Jones
Kissing The Pink
Ashes To Ashes
David Bowie
Houses In Motion
Talking Heads
Dum Dum Girl
Talk Talk
Words Of Failure Set
Everbody's Free (To Wear Sunscreen)
Baz Luhrmann
The Staunton Lick
Lemon Jelly
Adventures in Failure
MC 900 Ft Jesus
Words of Advice
Material
Nightmare At Sea Set
Pipes Honour
Nightmares On Wax
Bird and Flag
Sea and Cake
Nova Scotia
Ultramarine
MH217 (airdate 07-DEC-2016)
You can play this show on Mixcloud
Song
Artist
Boom Bullet Set
She Sells Sanctuary
The Cult
Onion Skin
Boom Crash Opera
Bullet With Butterfly Wings
Smashing Pumpkins
God Is A Bullet
Concrete Blonde
Violent Suburbs Set
Gone Daddy Gone
Violent Femmes
Looking For Clues
Robert Palmer
Stand
REM
Rattle My Bones
Suburbs
Kiss Me On The Bus
Replacements
Faith Cure Set
Fascination Street
The Cure
Come Undone
Duran Duran
Slide Away
The Verve
RV
Faith No More
Dangerous Fashion Set
Life's What You Make It
Talk Talk
These Dangerous Machines
Martha & The Muffins
Game Above My Head
Blancmange
Love Shadow
Fashion
Leave Control Set
If You Leave
Orchestral Manoeuvres In The Dark
Wishing (If I Had A Photograph)
A Flock Of Seagulls
Seconds
Human League
She's Lost Control
Joy Division
Passion Pavement Set
Human Factor
Susan J Paul
The Screams Of Passion
Family
Crack In The Pavement
Wendy & Lisa
MH216 (airdate 30-NOV-2016)
You can play this show on Mixcloud
Song
Artist
Party In The Suburbs Set
Party Out Of Bounds
The B-52s
Never Say Never (edit)
Romeo Void
Everywhere I Go
The Call
Love Is The Law
Suburbs
Walking And Running Set
Clampdown
Clash
The Wait
Pretenders
Mental Hopscotch
Missing Persons
Walking Into Walls
Martha & The Muffins
When The World Is Running Down
The Police
Tell Her The ABCs Set
The Look Of Love
ABC
I Wanted To Tell Her
Ministry
p Machinery
Propaganda
Eel Cake Set
Cancer for the Cure
Eels
Wheels Turning
The Woodentops
The Distance
Cake
If I Only Had a Brain
MC 900 Ft Jesus
The Air Is Getting Slippery
Primus
Steppin And Swinging Set
Steppin' Out
Joe Jackson
New Frontier
Donald Fagen
The Ability To Swing
Thomas Dolby
Notgonnachange
Swing Out Sister
Awake To Sleep Set
The Awakening Of A Woman (Burnout)
Cinematic Orchestra
Water From A Vine Leaf
William Orbit
For the week of 23-Nov-2016 the Hamster was trying to cook a turkey so he replayed MH170. You can find the playlist by clicking here.
MH215 (airdate 16-NOV-2016)
You can play this show on Mixcloud
Song
Artist
Oiled Bunny Fur Set
Power And The Passion (Remastered Version)
Midnight Oil
Kick
INXS
The Cutter
Echo & The Bunnymen
Heartbeat
The Psychedelic Furs
Sex In The Car Set
Too Much Sex, Not Enough Affection
Timbuk 3
Stop This Car
The Woodentops
Drive She Said
Stan Ridgway
Backwater
Meat Puppets
A Girl Like You
The Smithereens
Cigarette Evidence Set
Cigarette of a Single Man
Squeeze
Day in Day Out
XTC
Digging in the Dirt
Peter Gabriel
Evidence
Faith No More
Heavenly Airwaves Set
Airwaves
Thomas Dolby
Wasted
Blancmange
New Gold Dream (81-82-83-84)
Simple Minds
Images Of Heaven
Peter Godwin
Lie In Your Diary Set
Work For Love
Ministry
Lie To Me
Depeche Mode
Nobody's Diary
Yazoo
Fade To Grey
Visage
International Pursuit Set
International (Global Mix)
Thomas Leer
The Pursuit of Accidents
Level 42
MH214 (airdate 09-NOV-2016)
You can play this show on Mixcloud
Song
Artist
Adam And Alex Set
Goody Two Shoes
Adam Ant
Rattle My Bones
Suburbs
Alex Chilton
The Replacements
(Let's All) Turn On
Hoodoo Gurus
I'm The Man
Joe Jackson
Love In A Bottle Set
Orange Crush
REM
Message In A Bottle
The Police
The Bottom Line
Big Audio Dynamite
Rudy Can't Fail
The Clash
Message Of Love
Pretenders
Living In The Penthouse Set
Penthouse And Pavement
Heaven 17
Living On The Ceiling
Blancmange
Lies (Extended Version)
Thompson Twins
Walk It Off Set
Take a Walk
Split Enz
The Walk
Cure
The Walk
Eurythmics
Walking In The Rain
Grace Jones
Bela Lugosi Is Real Set
Bela Lugosi's Dead
Bauhaus
What Is Real (Dreamtime Mix)
Cabaret Voltaire
Orbit The Orb Set
Perpetual Dawn (Solar Youth Mix)
The Orb
No More Tears
The KLF
Gringatcho Demento
William Orbit
MH213 (airdate 26-OCT-2016)
You can play this show on Mixcloud
Song
Artist
Kick In The Back Set
Kick
INXS
Beds Are Burning
Midnight Oil
Desperate But Not Serious
Adam Ant
I Want You Back
Hoodoo Gurus
Everywhere I Go
The Call
Clueless Lucy Set
Looking For Clues
Robert Palmer
Making Plans for Nigel
XTC
Masoko Tanga
The Police
I Love Lucy
Producers
Alive Set
The Rain
Crush
Alive and Kicking
Simple Minds
So Alive
Love & Rockets
Evidence
Faith No More
Big Game Set
Game Above My Head
Blancmange
When The Lights Go Out
Naked Eyes
Big Man Restless
Kissing The Pink
Seen And Not Seen
Talking Heads
Life's What You Make It
Talk Talk
Sequencer Set
Trans-Europe Express
Kraftwerk
Inspiration
Section 25
Your Silent Face
New Order
Love Mambo Set
Moments In Love
The Art Of Noise
Mambo
Wally Badarou
For the week of 19-Oct-2016 the Hamster was asleep in the exercise wheel so he replayed MH127. You can find the playlist by clicking here.
MH212 (airdate 05-OCT-2016)
You can play this show on Mixcloud
Song
Artist
Wild Lobster Set
Rock Lobster
The B-52's
Blister In the Sun
Violent Femmes
Wild Sex (In The Working Class)
Oingo Boingo
I Melt With You
Modern English
French Kiss Set
The Perfect Kiss
New Order
Sound Of The Crowd
Human League
Frightened In France
Kissing The Pink
Shake It Off
November Group
Happy Revolution Set
I Could Be Happy
Altered Images
Love Plus One
Nick Heyward & Haircut 100
Notgonnachange
Swing Out Sister
Private Revolution
World Party
Physical Attraction
Eye To Eye
Zipper Fire Set
Hell
Squirrel Nut Zippers
Gris-Gris
Andrew Bird's Bowl Of Fire
Moi, Mon Ame Et Ma Conscience
Paris Combo
Sixes And Sevens To Me
Tom Maxwell
Let's Live It Up
The Brian Setzer Orchestra
Spy The Miniskirt Set
Spy Vs. Spy
Combustible Edison
Miniskirt
Combustible Edison & Esquivel!
Something For Cat
Four Piece Suit
Love Will Keep Us Together
Flea
Black Hole Sun
Steve Lawrence & Eydie Gormie
Light Dream Set
Black Light
Material
Bill's Dream
MC 900 Ft Jesus
Virus B
Jah Wobble & Bill Laswell
MH211 (airdate 28-SEP-2016)
You can play this show on Mixcloud
Song
Artist
Cake And Cat Set
Never There
Cake
Be My Yoko Ono
Barenaked Ladies
Someone Keeps Moving My Chair
They Might Be Giants
Sexx Laws
Beck
The Ballad of Buckethead
Buckethead
Tommy The Cat
Primus
Crying Grump Set
Here Comes The Grump
Adam Ant
Ask
The Smiths
The Crying Scene
Aztec Camera
Happy Birthday
Concrete Blonde
What's Up
4 Non Blondes
Lunatic Girl Set
A Girl Like You
The Smithereens
My Lunatic Friends
Deathray
Time Of Your Life
The Call
Dig It Up
Hoodoo Gurus
Don't Look Down
Sugarplastic
The All S Set
Tempted
Squeeze
Take a Walk
Split Enz
New Gold Dream (81-82-83-84)
Simple Minds
Ghost Train
Stranglers
Hurt My Heart Set
The Hurting
Tears For Fears
All Of My Heart
ABC
Wasted
Blancmange
Human
Human League
Violet Eyes Set
Drowning In Your Eyes
Ephraim Lewis
Violet
Seal
MH210 (airdate 21-SEP-2016)
You can play this show on Mixcloud
Song
Artist
Koo Koo Love Set
Koo Koo Koo
Moonpools & Caterpillars
I Will Follow
U2
Orange Crush
REM
Alex Chilton
The Replacements
Love Is The Law
Suburbs
Go So Fast Set
Here We Go
Ministry
To Cut a Long Story Short
Spandau Ballet
Pleasure Boys (Dance Mix)
Visage
We Live So Fast
Heaven 17
Beach And Bay Set
Echo Beach
Martha & The Muffins
Reap The Wild Wind
Ultravox
Bomber's Bay
Echo & The Bunnymen
Skin Deep
The Stranglers
Love On a Farmboy's Wages
XTC
Better Ghost Set
Things Can Only Get Better
Howard Jones
All the Things She Said
Simple Minds
Secret
Orchestral Manoeuvres In The Dark
The Ghost In You
The Psychedelic Furs
Vacuum Mood Set
Love In A Vacuum
'Til Tuesday
The Walk
Eurythmics
Mood Swing
Luscious Jackson
Hunger Pains
Eye To Eye
Dragonflies
Povi
Sleepy Life Set
Sleepwalkers
Level 42
Reel Life (Evolution II)
Cinematic Orchestra
Koobesq
King Kooba
But wait, there's more...
©2016, Marvin Hamster.