Marvin Hamster Music Emporium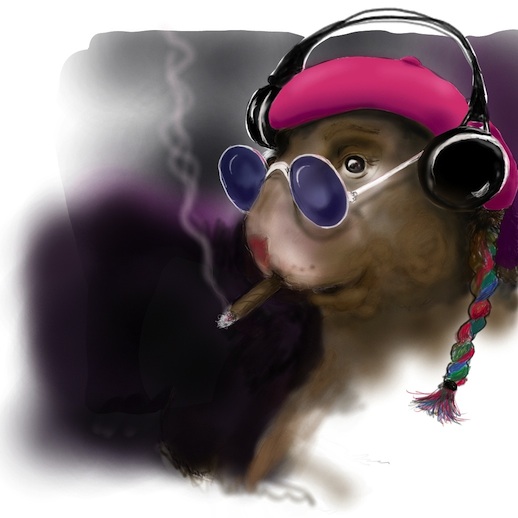 This is the home page for the Marvin Hamster Music Emporium. A weekly radio show of alternate music from the 80's and 90's. Marvin Hamster, your rodent of retro, selects two hours of College Rock, Alt Rock, Early Techno and Industrial, or what ever strikes his fancy, for your listening pleasure.
Adjust your raspberry beret, move your tri-color rat tail aside, put on your headphones, light up a clove (if you got 'em), and tune in!
Glare with disdain at anyone that doesn't get it.
The Marvin Hamster Music Emporium got started as the "New" Music Emporium around 1982 in Ames, Iowa, at the student run College radio station, KUSR (formerly KPGY). Back then the music was new, and the hamster voice was higher.
Subscribe to the Marvin Hamster podcast on iTunes.
Click on the orange icon if you want to subscribe to the podcast RSS.
Like Marvin on Facebook:

If for some reason the Facebook Like button is not showing above (probably a javascript problem), try clicking on the following link...
<== or that icon.
Follow Marvin on Mixcloud, where you can listen to past shows as well...
Follow marvinhamster on Mixcloud
Marvin doesn't share a cage with Tweety, but if you'd like to follow Marvin on Twitter you can do so here...
Marvin Hamster is on Wednesday Nights from 10PM to Midnight, Pacific Time, on KTHO, South Lake Tahoe. You can hear it on 590 AM, 96.1 FM, and streaming on the internet at KTHORadio.com
. You can also select your streaming choice from viaStreaming here.
Marvin Hamster is international! 107.5 andHow.FM in New Zealand is now broadcasting the show.
Tues - 7PM Sydney/9PM NZ (2AM Pacific, Tuesday, if I did the math right)
Tues - 10PM CT US/7PM Pacific
How cool is that!

Want to send Marvin an email? Send it to mhme at marvinhamster.com and soon as his little hamster feet navigate the keyboard he will respond.
Programming note: as of December 2017 the Hamster changed from weekly to twice a month. Here is the current set list.
MH248 (airdate 10-JAN-2018)
You can play this show on Mixcloud
Song
Artist
The Devil You Know Set
Heartbeat
The Psychedelic Furs
Devil Inside
INXS
Dream World
Midnight Oil
Come Anytime
The Hoodoo Gurus
Missing Miracle Set
Missing Person
Split Enz
Windows
Missing Persons
Promised You A Miracle
Simple Minds
Blinded Me With Science
Thomas Dolby
52 Lies Set
Temptation
Heaven 17
Lies (Extended Version)
Thompson Twins
Song For A Future Generation
The B-52's
Frightened In France
Kissing The Pink
Blind In The Dark Set
Leave Me Alone
New Order
Blind Vision
Blancmange
Locomotion
Orchestral Manoeuvres In The Dark
Wishing (If I Had A Photograph)
A Flock Of Seagulls
Mexico And Oklahoma Set
Mexican Radio
Wall of Voodoo
Ambush
Figurines
Skinny Hotrod
The Sugarplastic
The High Party
Ted Leo & The Pharmacists
Oklahoma
Bishop Allen
Passion With U Set
The Screams Of Passion
Family
A Love Bizarre
Sheila E
Crack In The Pavement
Wendy & Lisa
Take Me With U
Prince
Below are some of the previous playlists...
MH247 (airdate 27-DEC-2017)
You can play this show on Mixcloud
Song
Artist
Sunday Cats Set
Cool For Cats
Squeeze
Love Cats
Cure
Blister In the Sun
Violent Femmes
Making Plans for Nigel
XTC
Sunday Papers
Joe Jackson
Positive Maniacs Set
With You
O Positive
Someone Is Calling
Modern English
Turnaround
Not Shakespeare
Ren
Moonpools & Caterpillars
These Are Days
10,000 Maniacs
Ministry Of Propaganda Set
All Day
Ministry
Hurt
New Order
The Murder Of Love
Propaganda
Chili Cake Set
Midlife Crisis
Faith No More
Mellowship Slinky In B Major
Red Hot Chili Peppers
All Mixed Up
311
What I Got (edit)
Sublime
When You Sleep
Cake
Red, Gold And Blue Set
Heartbreak Beat
The Psychedelic Furs
Red Skies
Fixx
New Gold Dream (81-82-83-84)
Simple Minds
Tinseltown in the Rain
The Blue Nile
Sleeping In The Rain Set
Waves
Blancmange
This City Never Sleeps
Eurythmics
Kingdom Of Rain
The The
MH246 (airdate 13-DEC-2017)
You can play this show on Mixcloud
Song
Artist
Billy Cats Set
(She's) Sexy + 17
Stray Cats
Stand By
Roman Holliday
Make A Circuit With Me
Polecats
Jam Up
Four Piece Suit
American Music
Blasters
Long White Cadillac
The Tone Popes
Violent Gurus Set
Add It Up
Violent Femmes
Primary
Cure
I Will Dare
The Replacements
Rattle My Bones
Suburbs
(Let's All) Turn On
Hoodoo Gurus
New Joy Front Set
Temptation
New Order
She's Lost Control
Joy Division
Lovely Day
Front 242
Certain Uncertainty Set
Uncertain Smile
The The
Lifes A Scream
A Certain Ratio
Certain Things Are Likely
Kissing The Pink
Shy Ghost Set
Like A Ghost
Ignatius Jones
Under the Milky Way
The Church
Open Your Heart
Human League
Too Shy
Kajagoogoo
Ultramarine Nightmare Set
Bird and Flag
Sea and Cake
Happy Land
Ultramarine
Dreddoverboard
Nightmares On Wax
Due to some scheduling issues there were no new shows from November 22 through December 6th.
MH245 (airdate 15-NOV-2017)
You can play this show on Mixcloud
Song
Artist
Janitor Love Set
All Time Low
2.3
Janitor
Suburban Lawns
Sky Blue Pink
Exene Cervenka & The Original Sinners
Just A Gigolo
Barbie And The Kens
Private Idaho
The B-52s
Beep Beep Love
Gruppo Sportivo
Mental Clampdown Set
Mental Hopscotch
Missing Persons
Tattooded Love Boys
The Pretenders
I Wanna Live
Ramones
What People Do for Fun
Martha & The Muffins
Clampdown
Clash
Tomato Cake Set
Comfort Eagle
Cake
Tomato Kid
Moonpools & Caterpillars
Don't Look Down
Sugarplastic
Pigs That Ran Straightaway Into the Water
Mountain Goats
XIY
Pinback
Pop Talk Set
Pop Life
Prince
Sowing the Seeds of Love
Tears For Fears
King for a Day
XTC
Life's What You Make It
Talk Talk
Slave Away Set
Slave To The Rhythm (Hot Blooded Version)
Grace Jones
Slave To Love
Bryan Ferry
So Far Away
Dire Straits
Lullaby Sea Set
Sweet Lullaby (Ambient mix)
Deep Forest
Need You Right Now (Ambient Mix)
Trumpet Thing
Sea Of Vapours
Nusrat Fateh Ali Khan
Nocturne No. 3
Joe Jackson
For the week of 08-NOV-2017 the Hamster decided to replay MH170, because all the recycled bits are still as fresh as decades old alternate music. See the playlist by clicking here.
MH244 (airdate 01-NOV-2017)
You can play this show on Mixcloud
Song
Artist
Psychedelic Chameleons Set
Midnight To Midnight
Psychedlic Furs
Fascination Street
The Cure
Slide Away
The Verve
Don't Fall
The Chameleons UK
Divine Message Set
Dear God
XTC
God Shuffled His Feet
Crash Test Dummies
Personal Jesus
Depeche Mode
God Is A Bullet
Concrete Blonde
God's Kitchen
Blancmange
Alphabet Set
AEIOU Sometimes Y
Ebn Ozn
I Before E Except After C
Yaz
IOU
Freeze
Hypnotic Set
Hypnotized
Simple Minds
Evidence
Faith No More
Love to Be Loved
Peter Gabriel
Images Of Tinseltown Set
The Ballad of Jenny Ledge
Toy Matinee
All I Wanna Do
Sheryl Crow
Tinseltown in the Rain
The Blue Nile
Images Of Heaven
Peter Godwin
Puzzled Butterfly Set
Madam Butterfly
Malcom McLaren
International (Global Mix)
Thomas Leer
Puzzle Boy
Area
For the week of 25-OCT-2017 the Hamster decided to replay MH135, to continue the cycle of new old, recycled old, new old, etc. Got to get the most of those bits, don't you know. See the playlist by clicking here.
MH243 (airdate 18-OCT-2017)
You can play this show on Mixcloud
Song
Artist
Melt The Drum Set
I Melt With You
Modern English
Love Is The Law
Suburbs
I Will Dare
The Replacements
Primary
Cure
Bang On The Drum All Day
Todd Rundgren
Infected Bizness Set
Infected
The The
Addiction
Lecture On Nothing
The Globe
Big Audio Dynamite
Stand Together
Beastie Boys
Mixed Bizness
Beck
Poison Ministry Set
Poison Arrow
ABC
Situation
Yaz
When The Lights Go Out
Naked Eyes
Game Above My Head
Blancmange
Say You're Sorry
Ministry
Young Giants Set
Young Folks
Peter Bjorn And John
Love You Madly
Cake
Blueeyed Devil
Soul Coughing
Hospital Food
Eels
Whistling In The Dark
They Might Be Giants
Get Vazquez Set
Get Your Snack On
Amon Tobin
Somewhere
United Future Organization
Baila Plena (Off World Ensemble Remix)
Papo Vazquez
Sweet Dove Set
Sweet Harmony
The Beloved
All That We Perceive
Thievery Corporation
Breakdown (Radio Mix)
One Dove
For the week of 11-OCT-2017 the Hamster decided to replay MH121, which is half way back to the beginning, for no particular reason. See the playlist by clicking here.
MH242 (airdate 04-OCT-2017)
You can play this show on Mixcloud
Song
Artist
Rock The Boys Set
Rock the Casbah
The Clash
Message Of Love
Pretenders
Crosseyed And Painless
Talking Heads
Boys In the Bushes
Martha & The Muffins
Call Missing Persons Set
Modern Romans
The Call
Here Comes The Grump
Adam Ant
Pretty In Pink
The Psychedelic Furs
Mental Hopscotch
Missing Persons
Hanging On The Telephone
Blondie
6060-842
The B-52's
Accidents After Dark Set
Accidents Will Happen
Elvis Costello
This Is Pop
XTC
Driven To Tears
The Police
On Your Radio
Joe Jackson
All Time Low
2.3
After Dark
Flowers
Twin Pieces Set
We Are Detective
Thompson Twins
Do Or Die
Human League
Conditioning
Howard Jones
Gone To Pieces
Nik Kershaw
Waves Of Tears Set
Mad World
Tears For Fears
How Soon Is Now?
The Smiths
Fade To Grey
Visage
Waves
Blancmange
Cinematic Exit Set
All Things
Cinematic Orchestra
Flowered Knife Shadows
Harold Budd
Blade Runner Blues
Vangelis
MH241 (airdate 20-SEP-2017)
You can play this show on Mixcloud
Song
Artist
Rattle Radio Set
Rattle My Bones
Suburbs
Kiss Me On The Bus
Replacements
Primary
Cure
Eighties
Killing Joke
This is Radio Clash
The Clash
Pepsi And Coffee Set
Waiting Room
Fugazi
Land Of Sunshine
Faith No More
Institutionalized
Suicidal Tendencies
Come Out and Play
The Offspring
409 In Your Coffee Maker
Green Day
Go Blind Set
Don't Go
Yaz
Love Is a Stranger
Eurythmics
Blind Vision
Blancmange
Master & Servant
Depeche Mode
Sub culture
New Order
Big Time Crazy Set
Big Time
Peter Gabriel
She Drives Me Crazy
Fine Young Cannibals
Need You Tonight
INXS
Dry County
The B-52's
Right And Wrong
Joe Jackson
Straight Line Roundabout Set
Free Nelson Mandela
Special AKA
Belly Of The Whale
Burning Sensations
Movin' in a Straight Line
The Jam
English Roundabout
XTC
House Of Fun (Album Version)
Madness
Body Machinery Set
Leave Your Body
The Grid
p Machinery
Propaganda
For the week of 13-SEP-2017 the Hamster let Jen choose the show. She decided to replay MH232. See the playlist by clicking here.
MH240 (airdate 06-SEP-2017)
You can play this show on Mixcloud
Song
Artist
Balanced Dreams Set
Get The Balance Right
Depeche Mode
State Farm (Madhouse Mix)
Yaz
Sweet Dreams (Hot Remix)
Eurythmics
Frightened Pleasure Set
Pleasure Boys (Dance Mix)
Visage
Frightened In France
Kissing The Pink
All Stood Still
Ultravox
The Metro
Berlin
Ambush The Future Set
Ring of Fire
Wall of Voodoo
Ambush
Figurines
The Future's So Bright, I Gotta Wear Shades
Timbuk 3
Mr Trouble
Stan Ridgway
Clap Hands
Tom Waits
Undone Moon Set
Come Undone
Duran Duran
Pictures Of You
The Cure
The Killing Moon
Echo & The Bunnymen
Milky Sun Set
Under the Milky Way
The Church
So Alive
Love & Rockets
Always The Sun
Stranglers
Avalon
Roxy Music
Sleeping In A Blimp Set
Budapest By Blimp
Thomas Dolby
Kingdom Of Rain
The The
The City Sleeps
MC 900 Ft Jesus
MH239 (airdate 30-AUG-2017)
You can play this show on Mixcloud
Song
Artist
Candy Everywhere Set
Chant No. 1
Spandau Ballet
I Want Candy
Bow Wow Wow
Never Say Never
Romeo Void
The Wait
Pretenders
Everywhere I Go
The Call
Rock Circuit Set
Place In The Country
Adam Ant
Rock This Town
Stray Cats
American Music
Blasters
Jam Up
Four Piece Suit
Make A Circuit With Me
Polecats
Cleanin' Up The Town
Bus Boys
Girls And Passion Set
I Love Lucy
Producers
Be My Girl (Sally)
The Police
Train In Vain
The Clash
Stupid Girl
Garbage
Power And The Passion
Midnight Oil
Better Be Good Set
Things Can Only Get Better
Howard Jones
Human (Extended Version)
Human League
Come Live With Me
Heaven 17
Wouldn't It Be Good
Nik Kershaw
Detectives And Screws Set
Watching The Detectives
Elvis Costello
Fools In Love
Joe Jackson
Yacht Dance
XTC
You Turn The Screws
Cake
Badger In Black Light Set
The Badger
Ultramarine
Black Light
Material
Obey The Rules Of The Night
Heavy Shift
For the week of 23-AUG-2017 the Hamster was buzy staring into the sun and decided to replay MH238 because he was blind.
MH238 (airdate 16-AUG-2017)
You can play this show on Mixcloud
Song
Artist
Two Cults Set
She Sells Sanctuary
The Cult
The Cutter
Echo & The Bunnymen
A Girl Like You
The Smithereens
Cult Of Personality
Living Colour
Simple Fixx Set
The Politics Of Dancing
Re-Flex
One Thing Leads To Another
The Fixx
Red Rain
Peter Gabriel
New Gold Dream
Simple Minds
Pop Panorama Set
Pop Music
M
Computer Games
Mi-Sex
Cars
Gary Numan
Panaorama
Cars
Strange And Crazy Set
Strangelove
Depeche Mode
She Drives Me Crazy
Fine Young Cannibals
Sub culture
New Order
All Day
Ministry
Punching Day Set
This Is the Day
The The
Waves
Blancmange
Big Man Restless
Kissing The Pink
Born Under Punches (The Heat Goes On)
Talking Heads
Scary Storm Set
Reel Life (Evolution II)
Cinematic Orchestra
I Scare Myself
Thomas Dolby
Good Man In A Storm
Level 42
But wait, there's more...
©2018, Marvin Hamster.