Marvin Hamster Music Emporium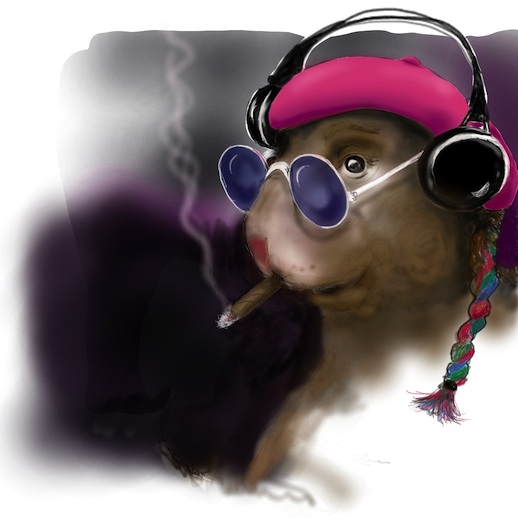 This is the home page for the Marvin Hamster Music Emporium.
Programming note: as of June 2018 the Hamster stopped broadcasting regularly. You can listen to previous sets and shows on Mixcloud.
MHME was a weekly radio show of alternate music from the 80's and 90's. Marvin Hamster, your rodent of retro, selected two hours of College Rock, Alt Rock, Early Techno and Industrial, or what ever struck his fancy, for your listening pleasure.
Adjust your raspberry beret, move your tri-color rat tail aside, put on your headphones, light up a clove (if you got 'em), and tune in!
Glare with disdain at anyone that doesn't get it.
The Marvin Hamster Music Emporium got started as the "New" Music Emporium around 1982 in Ames, Iowa, at the student run College radio station, KUSR (formerly KPGY). Back then the music was new, and the hamster voice was higher.
On 15-JUL-2020 Marvin removed the podcast from iTunes and AWS.
If you would like to listen to the shows go to Mixcloud.
Want to send Marvin an email? Send it to mhme at marvinhamster.com and soon as his little hamster feet navigate the keyboard he will respond.
You can see all the shows, sets, and playlists below...
MH255 (airdate 16-MAY-2018)
You can play this show on Mixcloud
Song
Artist
Faith Of Pain Set
We Care Alot
Faith No More
Give It Away
Red Hot Chili Peppers
I'm Shipping Up to Boston
Dropkick Murphys
Jump Around
House Of Pain
Do You Right
311
Radio Stupid Set
This is Radio Clash
The Clash
The Globe
Big Audio Dynamite
Infected
The The
Addiction
Lecture On Nothing
Stupid Girl
Garbage
Lucky Culture Set
Lucky Day
Thompson Twins
Love Action
Human League
Locomotion
Orchestral Manoeuvres In The Dark
Sub-culture
New Order
Catepillar Scare Set
The Catepillar
Cure
Me and the Wind
XTC
The City Sleeps
MC 900 Ft Jesus
I Scare Myself
Thomas Dolby
Wrapped Jazz Set
L.O.V.E.
United Future Organization
Cantaloop (Flip Fantasia)
Us3
Jazz Addiction
O.M.U.
Perceived Colorblind Set
All That We Perceive
Thievery Corporation
What Does Your Soul Look Like (Part 1)
DJ Shadow
Colorblind
Chroma Key
MH254 (airdate 25-APR-2018)
You can play this show on Mixcloud
Song
Artist
Killing Cure Set
Private Idaho
The B-52's
Just A Gigolo
Barbie And The Kens
Eighties
Killing Joke
Never Say Never (edit)
Romeo Void
Killing An Arab
Cure
Turnaround Turn Set
Turnaround
Not Shakespeare
With You
O Positive
I Want You Back
Hoodoo Gurus
Alex Chilton (Remastered Version)
The Replacements
My Turn
Claude Pate
Cake And Jesus Too Set
Anna Ng
They Might Be Giants
Comfort Eagle
Cake
Loser
Beck
If I Only Had a Brain
MC 900 Ft Jesus
Stand Together
Beastie Boys
Drum Corps Set
Ten $ Bill
Cop Shoot Cop
IMPI
IMPI
These Dangerous Machines
Martha & The Muffins
Born Under Punches (The Heat Goes On)
Talking Heads
Eye The Swing Set
Virtual Insanity
Jamiroquai
Nice Girls
Eye To Eye
Happy Sad
Pizzicato Five
Notgonnachange
Swing Out Sister
Heaven Or Garbage Set
Heaven or Las Vegas
Cocteau Twins
Dragonflies
Povi
Milk
Garbage with Massive Attack
Puzzle Boy
Area
MH253 (airdate 11-APR-2018)
You can play this show on Mixcloud
Song
Artist
Flock Of Devo Set
Telecommunication
Flock Of Seagulls
Dancing In Heaven (Orbital Bebop)
Q Feel
Panaorama
Cars
Freedom Of Choice
Devo
Poison Moscow Set
Poison Arrow
ABC
Play To Win
Heaven 17
Don't Tell Me
Blancmange
Goodbye Seventies
Yaz
Moon Over Moscow
Visage
Kiss It's Alright Set
The Perfect Kiss
New Order
Sound Of The Crowd
Human League
Devil Inside
INXS
It's Alright
Fashion
Dirty Snowman Set
Dirty Creature
Split Enz
Snowman
XTC
All Come True
World Party
Goodbye Girl
Squeeze
Pulp And Peppers Set
Pulp Culture
Thomas Dolby
Dancing Barefoot
MC 900 Ft Jesus
Mellowship Slinky In B Major
Red Hot Chili Peppers
Everyone's A Winner
Bootsauce
Violet Burnout Set
Violet
Seal
The Awakening Of A Woman (Burnout)
Cinematic Orchestra
MH252 (airdate 28-MAR-2018)
You can play this show on Mixcloud
Song
Artist
Clampdown Down Set
Clampdown
Clash
Message Of Love
Pretenders
The Walls Came Down
The Call
I Wanna Live
Ramones
What People Do for Fun
Martha & The Muffins
Crackpot Guns Set
Crackpot History And The Right To Lie
Adam Ant
And She Was
Talking Heads
I'm Afraid Of Americans
David Bowie
Melt The Guns
XTC
The Bomb Set
Let's All Make A Bomb (New Version)
Heaven 17
The Violence Of Truth
The The from the Mind Bomb album
Time Bomb
Rancid
Bombs Away
The Police
Bomber's Bay
Echo & The Bunnymen
Glad For Heaven Set
Glad To Know You
Chas Jankel
They Only Come Out At Night
Peter Brown
We Close Our Eyes
Go West
Images Of Heaven
Peter Godwin
Beautiful Years Set
As Years Go By
Level 42
Everybody Wants To Rule The World
Tears For Fears
It's My Life
Talk Talk
Beautiful Day
U2
Princely Sum Set
America
Prince
Skeleton Key
Wendy & Lisa
Yes
Family
Gaslight
fDeluxe
Little Mama
Ingrid Chavez
For the week of 21-MAR-2017 the Hamster decided to replay MH185, because it had Soft Cell's Muggs Game in it and he had not heard that one in a while. See the playlist by clicking here.
For the week of 14-MAR-2017 the Hamster decided to replay MH199, because tonight he wants to party like it's episode 199! See the playlist by clicking here.
MH251 (airdate 28-FEB-2018)
You can play this show on Mixcloud
Song
Artist
Love And Sex Set
Look Of Love
ABC
Don't Go
Yaz
The Metro
Berlin
Freedom Of Choice
Devo
Wild Sex (In The Working Class)
Oingo Boingo
Love And Kicks Set
Love Is The Law
Suburbs
Friend Or Foe
Adam Ant
Chant #1 (Extended Mix)
Spandau Ballet
Kick
INXS
Love And Lips Set
Love Songs
Simple Minds
Heaven
The Psychedelic Furs
(Get A) Grip (On Yourself)
The Stranglers
Lips Like Sugar
Echo & The Bunnymen
Kissing Heaven Set
Key To The World
Heaven 17
Blind Vision
Blancmange
Do Or Die
Human League
No One's On The Same Side
Kissing The Pink
Help Yourself
APB
Smoke And Matchsticks Set
Under The Bridge
Red Hot Chili Peppers
Smoke
Pell Mell
Martians
Moonpools & Caterpillars
Pictures of Matchstick Men
Camper Van Beethoven
Jazzy Endings Set
On Est Ensemble Sans Se Parler
United Future Organization
Cantaloop (Flip Fantasia)
Us3
Get A Move On
Mr. Scruff
MH250 (airdate 14-FEB-2018)
You can play this show on Mixcloud
Song
Artist
I Love A Mystery Set
Mystery Achievement
The Pretenders
Pulling Mussels (From The Shell)
Squeeze
Message In A Bottle (New Classic Rock Mix)
The Police
I Love Lucy
Producers
Die Talking Set
People Who Died
The Jim Carroll Band
End Of The World
REM
Standing Outside a Broken Phone Booth...
Primitive Radio Gods
Tom's Diner (7" A)
DNA & Suzanne Vega
Gladhouse Chameleons Set
Life In The Gladhouse
Modern English
This Time Of Night
New Order
Revenge
Ministry
Don't Fall
The Chameleons UK
Summer Rain In LA Set
Someone Somewhere In Summertime
Simple Minds
Tinseltown in the Rain
The Blue Nile
To Live And Die In L.A.
Wang Chung
Sweet Harmony
The Beloved
Bela In The Hospital Set
Bela Lugosi's Dead
Bauhaus
Money
The Flying Lizards
Hospital Food
Eels
Garden Leaf Set
One Day In My Garden
Amon Tobin
Water From A Vine Leaf
William Orbit
Star 6 & 7 8 9 (Phase II)
The Orb
MH249 (airdate 31-JAN-2018)
You can play this show on Mixcloud
Song
Artist
Spandau Wow Set
Chant #1 (Extended Mix)
Spandau Ballet
Go!
Tones On Tail
I Want Candy
Bow Wow Wow
Eighties
Killing Joke
Lemony Pumpkin Set
It's A Shame About Ray
The Lemonheads
My Sister
Juliana Hatfield
God Is A Bullet
Concrete Blonde
Bullet With Butterfly Wings
Smashing Pumpkins
Onion Skin
Boom Crash Opera
Crawl And Hop Set
Video Killed The Radio Star
Buggles
Fashion
David Bowie
Johnny And Mary
Robert Palmer
Twist & Crawl
English Beat
Life Begins at the Hop
XTC
Happy Christmas Killing Set
I Could Be Happy
Altered Images
Big Plans
Christmas
Koo Koo Koo
Moonpools & Caterpillars
The Killing Jar
Siouxsie and the Banshees
Love Plus One
Nick Heyward & Haircut 100
Lullaby Soon Set
How Soon Is Now?
The Smiths
Head Over Heels
Tears For Fears
Lullaby
The Cure
Wouldn't It Be Good
Nik Kershaw
The Exit Lounge Set
The Millionaire's Holiday
Combustible Edison
Fooling Myself (Easy Access Orchestra Mix)
King Kooba
The Girl From Ipanema
Pizzicato Five
Sutro Heights
Jaywalkers
Black Hole Sun
Steve Lawrence & Eydie Gormie
For the week of 24-JAN-2018 there were technical diffculties at the main station, KTHO, so Darrell picked a show at random to play from his remote Knuckleheads show that night. He chose to play MH248.
MH248 (airdate 10-JAN-2018)
You can play this show on Mixcloud
Song
Artist
The Devil You Know Set
Heartbeat
The Psychedelic Furs
Devil Inside
INXS
Dream World
Midnight Oil
Come Anytime
The Hoodoo Gurus
Missing Miracle Set
Missing Person
Split Enz
Windows
Missing Persons
Promised You A Miracle
Simple Minds
Blinded Me With Science
Thomas Dolby
52 Lies Set
Temptation
Heaven 17
Lies (Extended Version)
Thompson Twins
Song For A Future Generation
The B-52's
Frightened In France
Kissing The Pink
Blind In The Dark Set
Leave Me Alone
New Order
Blind Vision
Blancmange
Locomotion
Orchestral Manoeuvres In The Dark
Wishing (If I Had A Photograph)
A Flock Of Seagulls
Mexico And Oklahoma Set
Mexican Radio
Wall of Voodoo
Ambush
Figurines
Skinny Hotrod
The Sugarplastic
The High Party
Ted Leo & The Pharmacists
Oklahoma
Bishop Allen
Passion With U Set
The Screams Of Passion
Family
A Love Bizarre
Sheila E
Crack In The Pavement
Wendy & Lisa
Take Me With U
Prince
MH247 (airdate 27-DEC-2017)
You can play this show on Mixcloud
Song
Artist
Sunday Cats Set
Cool For Cats
Squeeze
Love Cats
Cure
Blister In the Sun
Violent Femmes
Making Plans for Nigel
XTC
Sunday Papers
Joe Jackson
Positive Maniacs Set
With You
O Positive
Someone Is Calling
Modern English
Turnaround
Not Shakespeare
Ren
Moonpools & Caterpillars
These Are Days
10,000 Maniacs
Ministry Of Propaganda Set
All Day
Ministry
Hurt
New Order
The Murder Of Love
Propaganda
Chili Cake Set
Midlife Crisis
Faith No More
Mellowship Slinky In B Major
Red Hot Chili Peppers
All Mixed Up
311
What I Got (edit)
Sublime
When You Sleep
Cake
Red, Gold And Blue Set
Heartbreak Beat
The Psychedelic Furs
Red Skies
Fixx
New Gold Dream (81-82-83-84)
Simple Minds
Tinseltown in the Rain
The Blue Nile
Sleeping In The Rain Set
Waves
Blancmange
This City Never Sleeps
Eurythmics
Kingdom Of Rain
The The
MH246 (airdate 13-DEC-2017)
You can play this show on Mixcloud
Song
Artist
Billy Cats Set
(She's) Sexy + 17
Stray Cats
Stand By
Roman Holliday
Make A Circuit With Me
Polecats
Jam Up
Four Piece Suit
American Music
Blasters
Long White Cadillac
The Tone Popes
Violent Gurus Set
Add It Up
Violent Femmes
Primary
Cure
I Will Dare
The Replacements
Rattle My Bones
Suburbs
(Let's All) Turn On
Hoodoo Gurus
New Joy Front Set
Temptation
New Order
She's Lost Control
Joy Division
Lovely Day
Front 242
Certain Uncertainty Set
Uncertain Smile
The The
Lifes A Scream
A Certain Ratio
Certain Things Are Likely
Kissing The Pink
Shy Ghost Set
Like A Ghost
Ignatius Jones
Under the Milky Way
The Church
Open Your Heart
Human League
Too Shy
Kajagoogoo
Ultramarine Nightmare Set
Bird and Flag
Sea and Cake
Happy Land
Ultramarine
Dreddoverboard
Nightmares On Wax
Due to some scheduling issues there were no new shows from November 22 through December 6th.
MH245 (airdate 15-NOV-2017)
You can play this show on Mixcloud
Song
Artist
Janitor Love Set
All Time Low
2.3
Janitor
Suburban Lawns
Sky Blue Pink
Exene Cervenka & The Original Sinners
Just A Gigolo
Barbie And The Kens
Private Idaho
The B-52s
Beep Beep Love
Gruppo Sportivo
Mental Clampdown Set
Mental Hopscotch
Missing Persons
Tattooded Love Boys
The Pretenders
I Wanna Live
Ramones
What People Do for Fun
Martha & The Muffins
Clampdown
Clash
Tomato Cake Set
Comfort Eagle
Cake
Tomato Kid
Moonpools & Caterpillars
Don't Look Down
Sugarplastic
Pigs That Ran Straightaway Into the Water
Mountain Goats
XIY
Pinback
Pop Talk Set
Pop Life
Prince
Sowing the Seeds of Love
Tears For Fears
King for a Day
XTC
Life's What You Make It
Talk Talk
Slave Away Set
Slave To The Rhythm (Hot Blooded Version)
Grace Jones
Slave To Love
Bryan Ferry
So Far Away
Dire Straits
Lullaby Sea Set
Sweet Lullaby (Ambient mix)
Deep Forest
Need You Right Now (Ambient Mix)
Trumpet Thing
Sea Of Vapours
Nusrat Fateh Ali Khan
Nocturne No. 3
Joe Jackson
For the week of 08-NOV-2017 the Hamster decided to replay MH170, because all the recycled bits are still as fresh as decades old alternate music. See the playlist by clicking here.
But wait, there's more...
©2021, Marvin Hamster.